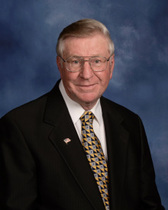 Pastor Taylor is a native of Pine Bluff and a graduate of Pine Bluff High School. He attended Ouachita Baptist University and received his B.A. in 1967. He did graduate Work at Golden Gate Baptist Theological Seminary in Mill Valley, California. He received his Master of Divinity degree from there in 1970 and the Doctor of Ministry degree in 1980. While attending Seminary, Pastor Taylor served as a Student Chaplain at San Quentin State Prison for two years. He has served as Pastor in Arkansas, Chicago and the San Francisco Bay area. Pastor Taylor and his wife JoAnne have two grown children and twelve grandchildren.


---
---
TV 19 is back on the air after being off for a time due to transmitter problems. Part of the wait, explained Jimmie Joynt, owner of Superior Transmitters in Dallas, was due to a serious automobile accident in which his wife Evelyn was seriously injured. She was in the hospital three weeks and is now in home therapy. I told Jimmie that I would ask our church members to remember her and him in prayer and I want to thank you for doing so in the days and weeks ahead.

Superior Transmitters had been a real friend to us over the years and it is very possible that we would not be on the air were it not for the help and support of this great company. Tell your friends that we are back on the air and to tune in TV 19.

September is history. October has arrived today. How quickly the year is passing. October has 5 Sundays so remember our 5th Sunday on the 29th. Allen and Jerry will be with us with some great music. It has been some time since these two have been here at Immanuel. We tried a couple of times earlier but the schedule just didn't work out, but now they are scheduled. They will be with us for the morning service on the 29th. I want to ask you to invite friends and family to join us for a great service and a good meal which will follow in Fellowship Hall.

Tonight we will enjoy another Faith Lesson with Ray Vanderlaan. This will be the fifth in an excellent series in which I have learned so much. These Faith Lessons are an in-depth video tour of the buried, distant, or otherwise forgotten places where the stories of the Bible actually happened. Join us for another great lesson tonight at 5:00 p.m. in the Worship Center.